GURU NANAK COLLEGE OF EDUCATION
ROAD SAFETY EDUCATION
Road crashes are the biggest killer of young people worldwide. Educational Institutions can play a key role in preventing road casualties and enabling children, families and everyone to use roads without being endangered.
Organizing a Road Safety Week is a great way to educate children, young people and parents about the dangers on roads, how we can all take steps to be safer, and how adults can better protect children. It can make a huge difference to children's lives and help to prevent deaths and injuries. 
Road Safety Week is also a time when you can raise awareness about the importance of road safety among other local people and the authorities in your area and call for safer roads. This could be about persuading local drivers to slow down and look out for children, or calling on your local authority to put in safe pavements, paths, crossings or a lower speed limit, to better protect children and families.
ROAD SAFETY WEEK
9-15 Jan is the Week of Action for Road Safety – Stop Driving Blind
The focus of the week is #stopdrivingblind.  It is a call to action for drivers and riders to
i) eliminate/minimize in-vehicle/other distractions and
ii) Promote "active" responsibility for those on the road ahead.
The purposes of the Week are
To find the main risks students face on roads, and if there are any barriers to them getting around safely, sustainably and healthily.
To aware the children about the risks on foot having to walk or cycle along and cross over busy, fast roads to get to school or around the local area.
To aware the increasing numbers of parents who are driving their children to school, impacting on their health and the environment.
PLAN OF ACTION
The tool we are using to promote safer road use during our Road Safety Week and year-round:
PLEDGE FOR ROAD SAFETY
Anyone can Make the Pledge. It enables everyone, especially drivers, to pledge to do their bit to stop road crashes, build happier communities, and help save the planet. 
The Pledge asks people- drivers, families, teenagers, staff members, children or anyone else to commit to six key points to protect themselves and others, by driving safely, encouraging others to drive safely, and by driving less or not at all: slow, sober, sharp, silent, secure, and sustainable. 
It will be used in workplaces and community centers, at events and roadshows, in bulletins and online, or in schools and colleges.
People can make the Pledge online at gncedelhi@yahoo.com
People can also make it by using a form (Click here to Pledge)
By creating a giant display in a public place where people sign post-it notes or creates hand-prints and adds these to show they have made the Pledge
Making a lesson plan by Trainee Teacher to Educate the students Road safety
A community walks on Thursday, 12th January, 2016. Any person involved in this Community walk wills hold a Yellow Ribbon. The symbolic display of yellow ribbons on vehicle and the person will show an active commitment to road safety
Road safety assemblies with speakers from local police, fire service or health agencies.
In the project [Road Safety week] students will create road safety posters, film, theatre performance or a local campaign and will focus on topics such as:
The benefits and disadvantages and level of safety of different modes of transport (cars, buses, cycling, walking etc.).
The stopping distances of cars travelling at different speeds to show why fast traffic is more dangerous.
Distractions for drivers and pedestrians that can pose a danger.
Exploring the consequences of road crashes – death, life changing injuries, the effects on families and communities.
The whole planning for Road Safety Week will be displayed on College Entrance hall, Notice Boards, Magazine and website
To raise awareness, parents and their whole family will also be invited in road safety walk or presentation with the children
The Project [Road Safety Week] as a Campaign for safer streets: Contact to the local government agency and tell them about the measures for better facilities for safe walking and cycling, lower speed limits, better traffic enforcement and other road safety measures in our area, and ask them to support and publicize our activity.
Include a campaign launch in our college website, with pupils giving views on what should be done to make roads safer.
Set up a display in a local supermarket or community noticeboards with posters designed by the children calling on drivers to slow down and look out for children.
Get the children to film clips of each other saying why it's important that they can walk safely, and/or measuring out stopping distances to show why drivers should slow down, and use these on your website, through social media, or show them at an event.
Promote our campaign in local newspapers, by telling journalists about it over the phone or through a press release, explaining what you're calling for.
Organize a 'photo call', inviting photographers from newspapers to take photos of children holding up a banner they have designed calling for safer roads.
Interview with at least five GNCE volunteers tell how they had been injured or bereaved by drivers who did not stay slow, sober, secure, silent or sharp.
highlight the dangers of what can happen when people don't follow the Brake Pledge,GNCE will releaseat leastsixshort films, one for each of the Pledge points.
TOOLS AND RESOURCES
Make use of resources to support and promote our activities and get road safety messages across to children, parents and local drivers.
Posters, Banners, T-shirts, balloons, Logos and posters with the date of our week to let everyone know it's Road Safety Week.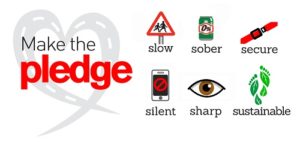 ENGAGE PARTNERS
Partnerships are a great way to pool resources and promote road safety to more people. And to support with organizing larger activities and events. 
Partners may include local authority (especially road safety team), police, and emergency services, Some Digital Company, Axis Bank, Punjab and Sind Bank, Guru Harkishan Public School
These Partners might be able to spread Road Safety Week across thelocality by encouraging other schools, community groups, NGO's and organizations to take part, and running a big publicity campaign.
PUBLICISE OUR WEEK
Whatever activities we are planning, help build excitement and enthusiasm for our Road Safety Week by publicizing it in advance, during and after the event.
Putting posters up with the date of our Week where pupils and parents will see them
Including an article in our school bulletin, newsletter and/or website Road Safety Week banners, Road Safety Week logo 

to

use alongside the article.
Taking pictures of and filming our activities
Contacting potential partners as above.
Sending a press release to and/or contacting local media a week or two in advance to let them know what's happening.
Surveying pupils and parents on their views on road safety in advance, letting them know it's part of the preparations for the Week. Use our hands-up surveys different age groups.
EVALUATE AND COMMUNCIATE HOW IT WENT
For recording, feedback and Evaluation of work done
A free online tool to do this in

GoogleSurvey.

A short evaluation report will be prepared.
A digital Story or documentary of the whole event will be prepared.
A page on our website will be created and shared with students, parents, partners, and organizations, we're hoping might get involved next year.
We Hope Road Safety Week 2016 from 9th to 15th Jan will be a great success!