ANTI  RAGGING COMMITTEE
Ragging is totally prohibited in GURU NANAK COLLEGE OF EDUCATION inside and / or outside the campus and anyone found guilty of ragging and / or abetting ragging whether actively or passively, or being a part of conspiracy to promote ragging, is liable to be punished under the provisions of any penal law for the time being in force.
GNCE ensures that the congenial and welcoming environment is given to the fresher's. To achieve this objective following committees have been formed by the Institute:
Anti-Ragging Committee
Anti-Ragging Squad
The Composition for Anti Ragging Committee at Institutional Level:
-Dr. Harmeet Singh -Director
-Dr. Jyoti Bhalla - Principal
-S.   Gurminder Singh Matharu (Chairman Higher Education, DSGMC) -Management Representative
-Ms. Neelima Dhingra – Faculty Representative
-Ms. Reha Malhotra – Student Representative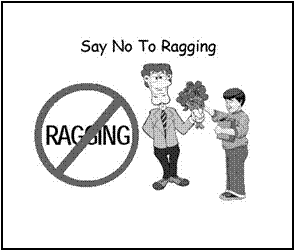 Roles and Responsibilities of the Committee 
1. To ensure compliance with the Hon'ble Supreme Court of India directions at the Institute level.
2. To monitor and oversee the performance of anti-ragging squad in prevention of ragging in the institution. 
GNCE  ANTI-RAGGING COMMITTEE
Sr. No.

Name

Contact     Details

E-mail id

1

Dr. Harmeet Singh

9810073389

 

 

noragginggnce@gmail.com

2

Dr. Jyoti Bhalla

9311443210, 9999187632

3

Ms. Neelima Dhingra

9999335095

4

Ms. Fozia Roohi

9953470355
ANTI RAGGING SQUAD
The  Composition  of  Anti-Ragging Squad
Dr. Letha Ram Mohan, Academic Co-ordinator, Rainbow Homes NGO
Dr. Harjeet Kaur Bhatia, HOD, Dept. of  Education , Jamia Millia Islamia University
Ms. Inderjot Kaur, Law officer, DSGMC
 Roles and Responsibilities of  the Squad
1. To make surprise visits on hostels and other places vulnerable to incidents of and having the potential of ragging.
2. To conduct on the spot enquiry in to any incident of ragging.
Be a change-maker!
Make your campus Ragging-free!